9 magical weekends this winter starting January 13th, 2018
Additionally, this life-changing journey offers 200-hours of Kundalini Yoga and certifies you as a Yoga Alliance Teacher.
When:
9 weekends (Saturdays and Sundays only) over January 13th-March 25th, 2018 and if you need to miss any we work work it out!
Where:
The beautiful and creative space Lindstrom Rugs
3717 West Jefferson, Culver City, CA 90016
Price: $3,250
What is included:
Lessons led by internationally renowned Maya Fiennes
Quick and easy positions and breath work to clear any type of everyday stress and pain
Focus on opening all chakra's
Effective sequencing methods for building well-rounded classes
Network of supportive, like-minded individuals
Comprehensive Asana Yoga teacher training manual
200-hour Yoga Alliance UK Teacher Certification
Tea and coffee all day long
Comfortable, renovated, eco-friendly learning space
Free WiFi
Schedule:
Training will take place over nine weekends from January 13 to March 25.
Jan: 13/14, 20/21, 27/28
Feb: 10/11, 17/18, 24/25
Mar: 10/11, 17/18, 24/25
This is the approximate daily schedule which is subject to change:
8:00AM–11:00AM = Morning Practice with Maya
11:00AM-11:30AM = Mid-morning Break
11:30AM–1:30PM = Practice and philosophy
1:30PM–2:30PM = Group lunch
2:30PM–4:30PM = Discovery and exploration
4:30PM-5:00PM = Mid-afternoon break
5:00PM-6:00PM = Interactive recap and discussion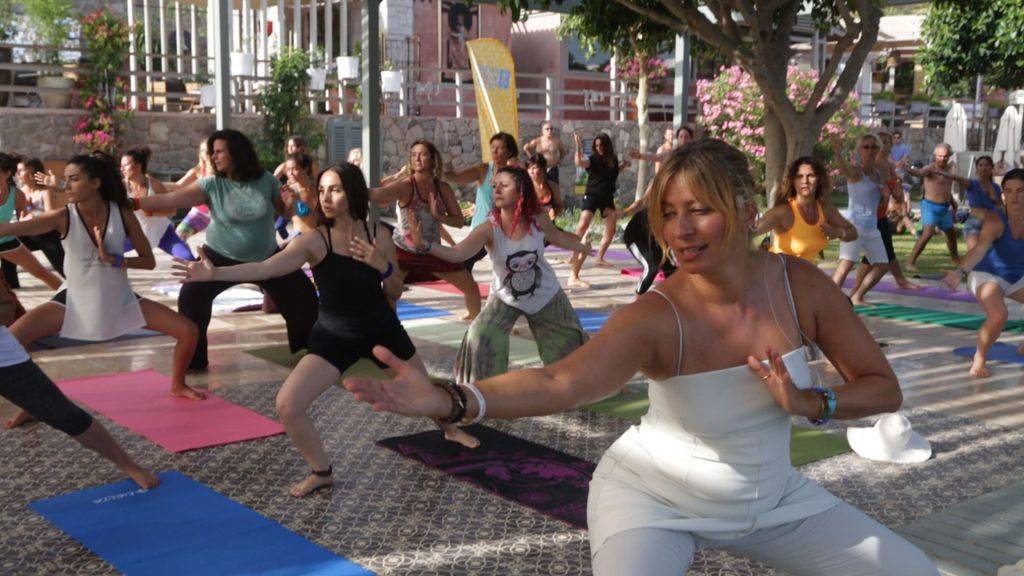 For some people, yoga is about fitness and for others it is about spirituality... For Maya, it's about Real Life. This program has been specially designed to be more than just "learn how to teach yoga." As we unlock the layers of Kundalini yoga and explore the power of Kundalini energy, this transformative experience is sure to ignite some serious positive momentum in your life. It will help you know how to use yoga to better your life and the lives of others. It will help you learn how to truly take care of yourself so that you can contribute to the enlightenment and well-being of others.
And if learning to teach is your motive, you will learn how to safely, knowledgeably and confidently through a deep understanding of the basic principles, philosophies and teachings of yoga. The course is certified by Yoga Alliance UK and anyone who completes this intensive Teacher Training course plus continual assessment will become an internationally Certified Yoga Instructor, qualified to teach Maya Fiennes "Yoga for Real Life" worldwide. All students will get Student Membership to Yoga Alliance during training and this can be upgraded to full membership once they are certified. Upon completion, you will be eligible for the Registered Yoga Teacher (RYT) designation from Yoga Alliance UK, able to teach yoga worldwide.
Are you ready for more? Are you ready to feel solid, grounded, and fully present; to step into your best self and
find pleasure in every moment? Then say YES.  
Please sign up and join me as we discover how in helping ourselves, we can help the rest of the planet.
RISK-FREE CANCELLATION POLICY - (Expires on October 31st, 2017)
If for some reason you decide the Maya Fiennes Yoga For Real Life Teacher Training is not for you, simply send a written cancellation request before October 31st and we will refund your deposit in full.
---
Location:
The training space is located in the trendy West Adams District of Los Angeles, an up-and-coming creative area, full of artists, antique dealers, furniture/lighting producers, architects, etc. West Adams is a historic neighborhood in the South Los Angeles region and one of the oldest neighborhoods in the city of Los Angeles. It's known for its large number of historic buildings, structures and notable houses and mansions throughout Los Angeles. More than 70 sites in West Adams have received recognition as a Los Angeles Historic-Cultural Monument, a California Historical Landmark, or listing on the National Register of Historic Places.
What To Bring
Here is a list of things you should bring with you.
For the training:
Your yoga mat Mat towel (if required) Any other yoga equipment you require Suitable yoga clothes Notepads Pens/Pencils A USB stick A thirst for yoga and learning!
For the venue:
Good mood, Manners, Your own lunch/snacks/beverages that you'll need throughout the day or you can order delivery with apps like Doordash, Postmates, etc.
Getting Here
The venue is a 27-minute car ride and 50-minute train ride from LAX airport. It is easily accessible from the I-10 Freeway (Crenshaw Exit). The nearest rail is the Metro Expo Line (Crenshaw Exit). For Taxis/Uber, just use the address: 3717 West Jefferson Blvd., Los Angeles, CA 90016.
There will be a 10% increase in the price for bookings received after 31 October 2017 so hurry to receive the early bird special rate!
IMPORTANT NOTE:
The price does not include your flights or your travel to and from the training space. It is your responsibility to book your flights and travel and make sure that you have arrived at the space on time for the beginning of the first lesson on 13 January 2018. The last day of the yoga teacher training is 25 March 2017 ending at 6pm. Kindly arrange your flights and travel accordingly.
We so look forward to having you with us in this special teacher training with Maya Fiennes!